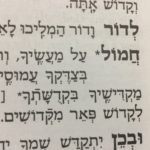 Rosh Hashana is in the air.
I have been listening to the sounds of my husband preparing Rosh Hashana Mussaf and the shofar for the past few weeks (I may or may not get to hear them in shul, but at least I get to hear the preview at home!).
The smell of sweet round challahs wafts from the oven, delicious kugels and desserts piling up on the shelves of the freezer (which we were lucky enough not to lose in Hurricane Irma!).
And last night my sister called me for an idea of a good Rosh Hashana song to play. Eeek. I had written up the sheet music for Chamol, but had not quite managed to post it. I rattled off a list of some other songs (Koh Amar Hashem, Havein Yakir Li, Avinu Malkeinu, Dip the Apple in the Honey) and resolved that I would post the sheet music for Chamol today! (And maybe those others some other time?)
A song bursting with feeling, Chamol, composed by Rabbi Akiva Homnick, is sung in shuls everywhere on the Yamim Noraim.
Download Chamol Sheet Music
Listen to Chamol