Chanuka Sheet Music – Maoz Tzur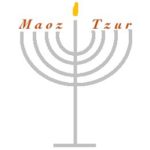 After lighting the menorah on Chanuka, I like to take out an instrument and play while my family sings along. Well, at least one night after candle lighting, I try to take out an instrument and play and sing with my family! We have a bunch of little kids, so playing every night while they are still awake isn't always realistic! Sometimes I end up playing a duet or trio with some extra little fingers! 🙂 It is a lot of fun and the kids all love it!
Enjoy this sheet music for Maoz Tzur so that you can play and sing with your family this Chanuka too!
Need a Chanuka gift idea?
5 Weeks to Kumzits Piano Course for girls and women makes an excellent gift for yourself or someone you love! It can literally change your life, and is a gift experience that will be long remembered!
Download Sheet Music for Maoz Tzur