J's First Kumzits and Sheet Music for Acheinu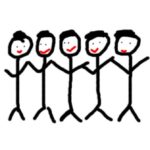 By special request from J, one of my first students in the 5 Weeks to Kumzits Piano Course, I am pleased to bring you this week's song, Acheinu.
J might not even realize it, but she did something that, to me, was very special:
This story took place about four and half weeks after my course, 5 Weeks to Kumzits, began for the very first time.

We had some post-seminary girls helping out as counselors in our out-of-town community. I decided to take advantage of the opportunity and have a kumzits for women!
J works very long hours, and did not think she would feel like staying for a kumzits after work. She stopped by my house just for a moment to pick something up, but was drawn in by the beautiful kumzits atmosphere.
I asked J if she wanted to play a song, totally figuring she'd be too scared, just as I would if asked to play when I had only been playing for four and a half weeks!
J was reluctant at first, but realizing it was a song she knew, she decided to go for it. I – and everyone else in the room – was blown away as she confidently played the song while everyone sang along. She performed phenomenally! I could not have been prouder!
Here is what J had to say about the course:
My biggest fear [when I signed up for the course] was that I would not have time to practice. It was true to some extent. I couldn't practice as much as I would have liked. But I did get practice time in and enjoyed it!
My favorite part was being able to have to audio with me so I could hear what the songs were supposed to sound like. I think that is a great feature.
I would, and did, recommend it to my best friend!
Thank you Ita for this wonderful gift! I have truly enjoyed it and look forward to continuing to play these songs and eventually learning more.
This song's for you!
Thank you J! This song is for you!
PS J can play this song using the chord and lyrics sheet – can you?
Feel free to use the fully notated sheets, but know that there is an easier way to learn to play!
Download the Sheet Music
Chords and Lyrics Sheets
The two chord/lyrics sheets above reflect the original recording. I prefer to play this song with a few enhancements, reflected in the following two chord/lyrics sheets:
Melody and Chord Sheets
Acheinu Melody and Chords in Am
Acheinu Melody and Chords in Em
Full Notation Sheets
Win 5 Weeks to Kumzits!
I am giving away free enrollment in 5 Weeks to Kumzits to one lucky (random) winner! Just subscribe to the playJewishMusic.com newsletter by Sunday, December 4, 2016, 11:59 PM EST, and you will automatically be entered to win!
Subscribe now (below)! You'll also get the free personal consultation 🙂 .
5 Weeks to Kumzits contains female vocals, and is for women and girls only, high school age and above. *** Must be female to accept prize. ***