Sheet Music for Chabad Tzemach Tzedek Niggun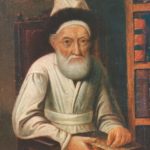 This niggun originates from the chassidim of the Tzemach Tzedek of Chabad. It was originally a slow tune, but has been popularized in recent years with a fast tempo.
If you aren't already familiar with this hit niggun or, like me, you have heard it before but couldn't connect the name to the niggun, you can watch Beri Weber sing it here.
Download sheet music for Chabad Tzemach Tzedek Niggun
Tzemach Tzedek Niggun full notation
Tzemach Tzedek Niggun melody and chords
Listen:
Download Tzemach Tzedek Niggun Audio