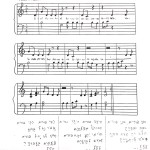 This morning, my one year old busied himself taking books off of my bookcase. Normally, this is not my favorite activity. However, on this particular occasion, there was actually a nice side benefit: my baby pulled a long-forgotten binder off of the shelf!
As soon as I saw the blue binder (when I was a kid we used to call it a loose leaf!), I knew what was inside: sheet music I had written for my piano students and friends years ago. The contents of this binder were very old; many of the pages were hand written, from before I even had my first music notation software! (That first software was in there too, stuffed into the front folder on two floppy disks that my current computer would not even have a place to insert!)
And when I saw it, I remembered right away that I had several purim songs in there! Many of these were written for real beginners, using a super simple right and left hand.

Included are:
Al Hanissim – על הנסים (notes with chords on top)
Ani Purim – אני פורים
Oh Once There Was A Wicked, Wicked Man
Hakova Sheli – הכובע שלי
Mishenichnas Adar – משנכנס אדר
Utzu Aytza – עצו עצה
I thought that maybe they would come in handy for someone, so I scanned them. Here they are!